I've been suffering with eczema for quite a while. It could be due to stress because of the pandemic and maybe because of ageing. There are many factors that make our skin sensitive, itchy and even dry. It would be better to address skin problems while it's not yet complicated. Remember that our skin also serves as protection and that we should take care of it.
AVEENO contains Active Naturals such as colloidal oats which are clinically proven to soothe dry skin. For many years, AVEENO has been using the power of all-natural and organic ingredients such as colloidal oats and combining them with breakthrough sciences to deliver skincare solutions that effectively cleanses, moisturizes, and protects all skin types while being gentle enough for everyday use.
I've tried Aveeno products before and even until now I'm still using the Aveeno Skin Relief lotion. It keeps my skin hydrated and moisturized. Now with Aveeno Dermaxa, I'm sure to say goodbye to eczema.
Here are some of the products from Aveeno 
Aveeno Dermexa Daily Emollient Cream is available in 200ml. It relieves and protects extra dry, eczema-prone skin (dryness, itchiness, redness, flaking, stinging).
Aveeno Dermexa Daily Emollient Body Wash also available in 280ml. It gently cleanses and soothes extra dry, eczema-prone skin.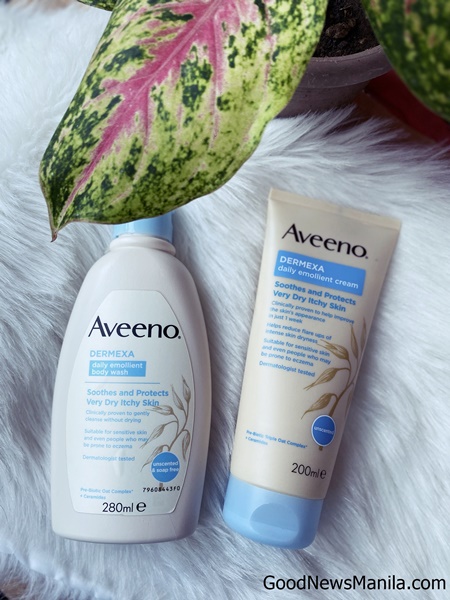 For more lifestyle and good vibes articles, Subscribing to our blog through email and like the GNM FB Page. Follow our Twitter and Instagram accounts too!
This October we celebrate the National Eczema Awareness Month. May this serves as a reminder for us to take care of our skin with proper nutrition, hydrating and using products that are gentle to the skin. Make sure to add Aveeno products in your cart now while on sale. Aside from the product discount, you can also enjoy free shipping and earn coins. Share your favorite Shopee find on the comment section, I would love to read them.