With modern technology, today's air-conditioning units are now more than just the basic concept of heating and cooling. For Daikin, air conditioning is also further defined as an avenue to contribute in improving the quality of the environment and furthermore the lives of the people by continuously developing new products for residential and commercial market.
This was the highlight of the recent Daikin Philippines press conference held at Marriott Hotel Manila in Pasay City.
What is Indoor Air Quality?
For these reasons, Daikin has continued on with its aim for Inverterization, as well as tackling another significant issue, the Indoor Air Quality (IAQ).
Indoor Air Quality refers to the air quality within and around buildings and structures, especially as it relates to the health and comfort of building occupants. Understanding and controlling common pollutants indoors can help reduce your risk of indoor health concerns. Health effects from indoor air pollutants may be experienced soon after exposure or, possibly, years later. It is also an advocacy recognized by Green Building Organizations as it is very much evident how the air quality in the world is worsening thus the need to take action and make adjustments and stop compromising wellness with progress.
Diakin Air Purifiers & More
For the residential market, Daikin has released a full range of Air Purifiers to help families in reducing the risks of illness such as asthma. While for the commercial market, Daikin has developed products that is capable of inducing fresh air that is essential to attaining the best conditions for the people occupying the space.
Daikin Air Purifiers offer a unique air purifying technology to protect indoor environments at home, office, and everywhere clean air is important.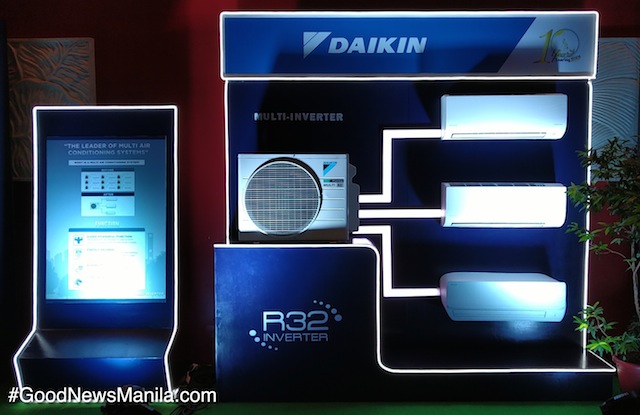 Other Daikin products featured at the media conference included the following:
Daikin Multi- Inverter – a single condensing unit that allows connection of up to 3 indoor units
Daikin Premium Inverter FTKM – a sleek and stylish Coanda Panel Design that steers air upwards and aims to be most efficient 5-Star Energy Efficient Residential Air Conditioner.
Daikin Large Floor Standing – latest addition to its extensive line of Packaged Air Conditioners
Enhanced Daikin VRV
As Daikin's flagship air-conditioner, the last one is a new Anti-Corrosion model provides a solution to the longstanding problem that projects located in reclamation areas face.
The unit features the use of a remarkably superior corrosion-resistant hot-dip Zinc-Aluminum- Magnesium (ZAM) alloy coated steel sheet product, which is 10-20 times better than hot dip zinc coated steel sheets which will enable the end users to protect their investment as well as get the best out it.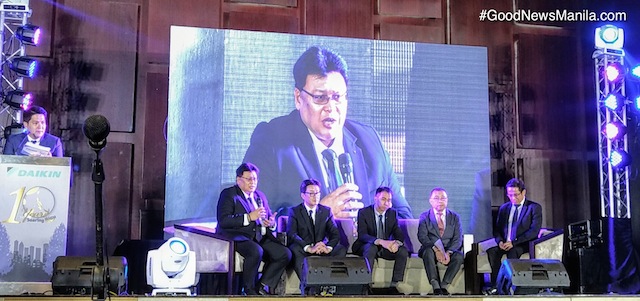 Congratulations to Daikin Philippines on their decade of innovation in the country where nature meets modernization in 5-star technology!