Health has always been a top priority. This pandemic has taught us many important things in life such as pursuing a healthy lifestyle, boosting our immune system to prevent getting Covid-19, as well as preparing our finances for sudden medical needs. Now that the rainy season is here, it's a must to prepare your immunity kit.
I have a medical kit at home and it comprises basic medicines such as paracetamol, anti-allergy medicine for my husband, pain relief and antacid for my hyperacidity. It also comes with vitamins and other food supplements. When choosing medicine, I go for "subok na" and trusted brands like Biogesic. These are the over-the-counter medicines that our parents gave us when we're sick. You know that they are safe and effective against pain and fever.
It's always best to consult your doctor before taking any medication especially if you have a maintenance drugs or allergic to certain medicine.
I received this custom-made Conzace Immunity kit a few days ago. Inside you will find vitamins such as Enervon, Conzace, Revicon Forte, Neurogen-E and Forti-D plus face masks in different colors.
I used to ignore Vitamin D3, probably it's the least food supplement I will get from the pharmacy until Covid-19 came. I did my research and found out how important Vitamin D3 in strengthening our immune system against respiratory illnesses. Vitamin D3 promotes bone health and prevents osteoporosis. Since then, I make sure to include Forti-D (Cholecalciferol) Vitamin D3) in our wellness kit.
Conzace helps promote immunity, healthy skin and hair. You can get it at Unilab's official store on Shopee.
"More energy, mas happy!" is definitely true. When you're full of energy you can do the things you love like traveling. We need energy to keep going and fight stress. We drink Enervon multivitamins everyday to fight infection and boost immune system. Get the Enervon Bitbit Bottle 30 tablets for only P210 on Shopee.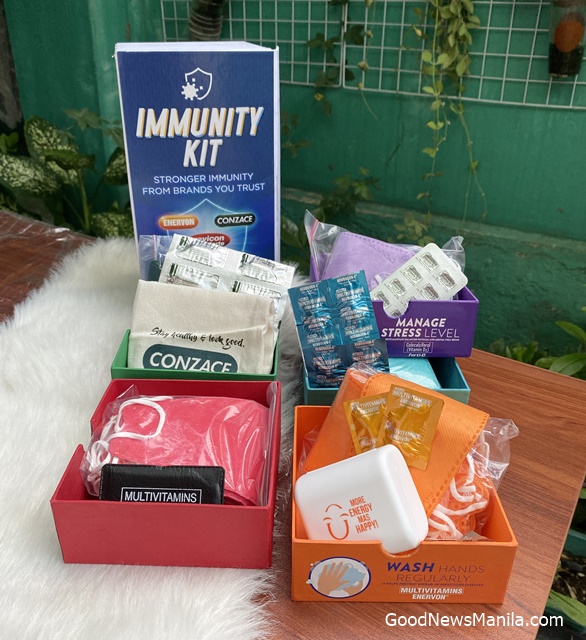 Discover more lifestyle and good vibes articles, Subscribing to our blog through email and like the GNM FB Page. Follow our Twitter and Instagram accounts too!
This coming June 6 to July 7, you can enjoy huge discounts and freebies with every purchase of Unilab products. Grab discount up to 50% off, Buy 1 take 1 at the 6.6 Shopee Sale!