If 'pictures are worth a thousand-words', then food photos are a thousand-times appetizing! Which dumpling photos in this article are most drool-worthy for you?
And once you're done, taste these delish dumplings in real-life at SM Fairview mall in Quezon City where new restaurant Happy Dumplings opened their first branch in the Philippines!
Happy Dumplings @ SM Fairview
Get your dose of true delight at Happy Dumplings, home of specialty Hakaw in different flavors and a wide variety of authentic Chinese dishes!
Prime your chopsticks ready and get set to dig into flavorful and satisfying dimsum!
Pile into Happy Dumplings' Hakaw which come in a variety of flavors: Plain, Szechuan, Garlic, Satay, Wasabi, Curry, Bagoong and Salted Egg.
Happy Dumplings is the only restaurant in the country to offer a variety of flavored Hakaw!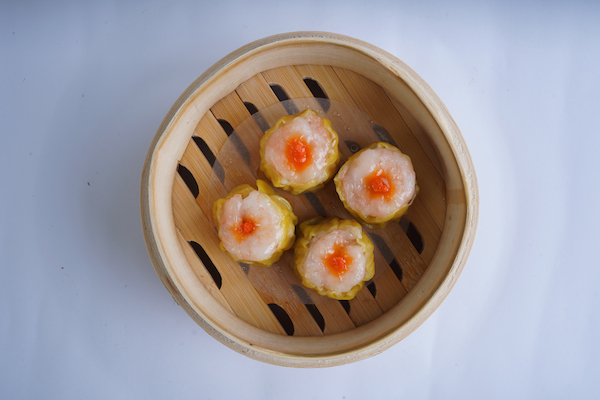 A basket of 4 is only Php 128 while 8 pieces are priced at Php 238. Mix-and-match so you'll have a taste of different flavors.
Enjoy these perfectly hand-made plump pockets or shrimp bonnets, encased in silky smooth wrappers in 'happy' colors. Chewy on the outside, the dough pleasantly thin, the shrimp have a slightly crispy crust with moist and tender meat, interlaced with pork bits.
Moreover, Happy Dumplings has also offer variations in the form of Pork and Shrimp Siomai, plus Fried Wanton, in case you want more of the same dumplings but with a crunch.
Other dimsums include Tausi Spareribs (photo immediately below), Beancurd Roll, Asado and Bola-bola Siopao and Chicken Feet.
Relish the Roasts and Rice Toppings
The restaurant has more Chinese staple dishes that are bursting with flavor such as the Pork Asado, Lechon Macau, Soy Chicken and Hong Kong Style Crispy Fried Chicken.
You may avail of these roasts in half or whole portions, depending on who you are sharing the meal with, and the strength of your appetite. But if you can't decide which roasts to gorge on, order the Roast Combination—a sampler of roasted dishes in one plate.
As for the rice toppings, they are always a hit and at Happy Dumplings, they do not disappoint.
Start with Fried Wanton, Fried Spring Rolls that comes with Salted fish Fried Rice.
If you are a pork person, there are Lechon Macau, Sweet & Sour Pork, Pork Asado Rice as well as Barbeque, Taosi and Salt & Pepper Spare Ribs Rice Toppings.
Partial to chicken? Delight in the Soy, Chicken & Mushroom and Hong Kong Style Crispy Fried Chicken Rice Toppings.
Also in the menu are Yang Chow Fried Rice and Salted Fish Fried Rice. Add Php 55 and avail of the "unlimited rice" offer. The signature sauce slathered on Happy Dumplings' rice adds another level of umami flavor.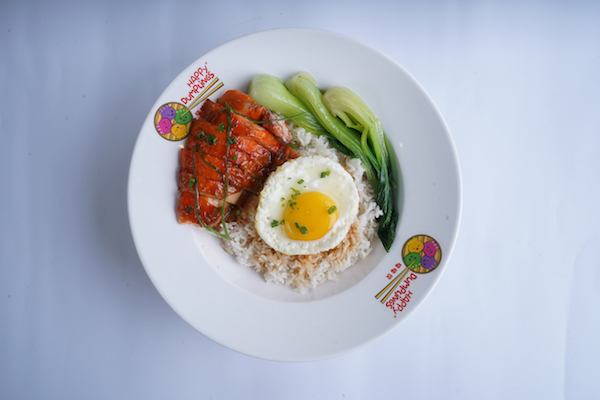 As if all the roster of delicacies were not enough, Pork Asado, Wanton, Wanton Noodle, and Soy Chicken Noodles are likewise available. Add a sunny side-up egg (Php 20) or have a platter of Seasonal Vegetables (Php 128).
"We scoured different places in Hongkong in search of what we believe have authentic Cantonese dumplings and other dishes. We offer affordable, good food with value for money that will make your tummy, heart and pockets smile. This is why we are Happy Dumplings," said Rhea Hao, marketing head.
Happy Dumplings uses only traditional herbs, wines and other ingredients. Its chef-consultant makes its own, homemade flavorings and sauces that lend that authentic Chinese taste.

Happy Dumplings is located at the 2nd level of SM Fairview (near the cinemas) with store hours from 10:00 am to 9:00 pm (Sunday to Thursday) and 10:00 am – 10:00 pm (Friday to Saturday).
You may connect with them on their telephone number  +63 917 152 2924. Facebook (Happy Dumplings) and Instagram @HappyDumplingsPH.
Happy Dumpling SM Fairview is their maiden branch and has all that you need to have a happy dining experience!