In this challenging time of the pandemic, it would hurt to enhance our fight against Covid-19 through a private-public partnership such as the recent 7-Eleven Philippines and Department of Health (DOH) BIDA Solusyon​ Campaign team-up on the barangay level approach.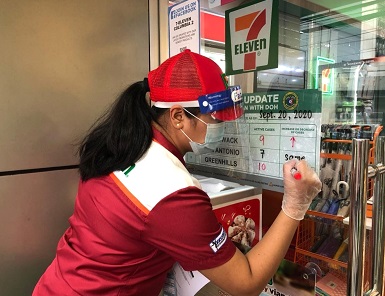 The project's focus is to enhance the Covid-19 information drive with newly available barangay data around the Philippines. If you think about it, this is a practical and efficient approach as 7-11 stores abound, and are strategically located in key community areas all over the country.
DOH x 7-Eleven
After its store personnel surveyed 38,000 individuals in 7,000 inner neighborhoods last August, 7-Eleven found out that only 60% of people in the vicinity of their stores wore masks, prompting the company to install a Covid-19 update poster in each of its 2,951 stores nationwide once barangay level data was made publicly available in mid-September.
Updated daily with data from the DOH, this poster shows the number of active cases and the trend in the barangay where the store is located. It also showed similar information about the two other adjacent barangays.
"Our management philosophy is 'show the right data in the right form to the right people at the right time, and they will make the right decisions.' You can't look over the shoulder of every store manager when you have 3,000 stores – you have to give him the freedom to manage his store, but at the same time let him know how he is doing, so he can either be left alone, recognized, or held accountable. We think the same is true with regard to managing COVID-19," says PSC President and CEO Victor Paterno
The barangay information drive reflects the private sector's contribution towards the DOH's transition from a top-down approach towards managing COVID-19, to one that focuses on strengthening the pandemic response at the grassroots.
"We laud the DOH for making the barangay data available. The virus spreads from close contact within members of a community, so we believe reporting it at that level opens up a promising front in the war to contain the virus. We hope it will drive the behavioral changes needed to get numbers down, and give communities the confidence that the problem can be managed. No need to be fearful—if together, we are careful," Paterno added.
"Drawing awareness to the community spread is a good first step," said Atty. Sikini
Labastilla, the head of Caloocan City's contact tracing team. "In Caloocan, every community now aspires to be COVID-free, just as they once aspired to be drug free. There will be cases, but the community needs to see it as an ongoing battle rather than one that is won when they hit zero."
Chief of Professional Medical Staff at the Eastern Visayas Regional Medical Center echoed sentiments that a community level response is critical to effectively managing the pandemic.
"Tacloban barangays demanded barangay spread numbers early on, and disclosing them resulted in a reduction in cases. Could this be because the community has been strengthened by one disaster, and is willing to work together to prevent another, just as countries like Taiwan and Korea that were affected by SARS have outperformed?" she said.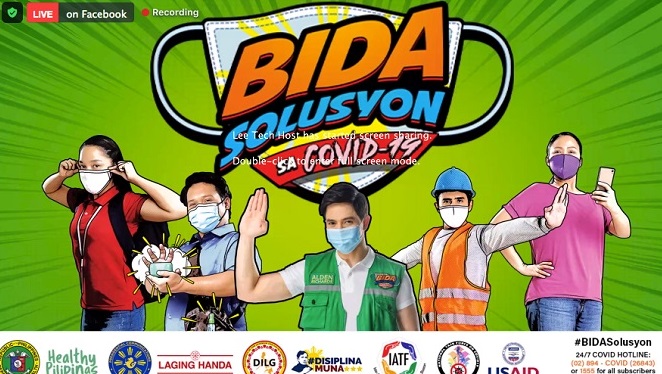 Much of this transition is currently observed in the DOH's efforts to augment the
Department of Interior and Local Government's (DILG) Barangay Health Emergency
Response Teams (BHERTS). BHERTs are locally organized representatives of the LGUs that assist the Local Epidemiology and Surveillance units as well as the contact-tracing teams.
"BHERTs are the first-line responders to the public for any COVID-19-related health concern," said Health Undersecretary Maria Rosario Singh Vergeire. "Through 7-Eleven's information drive initiative, the BHERTs, and the Barangay Disiplina Brigades, we aim for a stronger response at where transmission is most common: the barangay level."
To support the government as it pushes for wearing masks, washing hands, and keeping distance as key ways to prevent the spread of the virus, 7-Eleven is elevating awareness about COVID further by informing its customers about the number of active COVID-19 cases at their local barangay level.
According to Fr. Nicanor Austriatico, a chief researcher for microbiology, "Barangay level efforts over the past month have been promising. QC's Race to Zero campaign, which the UP OCTA group has been advising, has reduced spread and improved contact tracing efforts by 20%."
Asia Development Bank Health Director Dr. Patrick Osewe reaffirmed that localized spread management is increasingly seen as a best practice around the world, with the goal of resuming economic activity and travel.
"We were able to use data and implement policies in some countries, like Vietnam.
They controlled the pandemic in the beginning, but they had a surge of infections in Da Nang," said Osewe. "They were able to bring it down in three weeks. We need clear data at the barangay level that is monitored clearly."
Leading epidemiologist and convener of the Health Professionals Alliance Against COVID-19 (HPAAC) Dr. Antonio Dans noted that showing the public a real-time picture of successfully curbing the spread would have a positive impact on promoting further practice of the personal protective measures.
Bidang Barangay Contest
7-Eleven is also launching a Bidang Barangay Contest in more than 50 major cities and municipalities nationwide. Having provided information about local barangay's active cases, 7-Eleven is encouraging both the barangay's local BHERT officials and residents to be proactive partners in sharing information about COVID-19 their locality.
"These are early days in this approach, and we need to compare notes on what works and what doesn't as we progress in our individual efforts. Furthermore, we hope that the national government, and those here who influence them, can help incentivize reduction of community spread by empowering LGUs to lift restrictions to allow more economic activity," Paterno said.
Vergeire emphasized the importance of united effort between the government and the private sector in the fight against COVID-19, "Malaking bagay po ang pakikipagtulungan​ ng​ private sector sa pagapapalawig ng ating ​ ​pandemic response. We were able to do it more efficiently because of the cooperation of the different business sectors."
"Kaya't muli, kami po ay nagpapasalamat sa​ Philippine Seven Corporation, sa lahat ng​ ating ​BIDA partners, sa ating ​ ​LGUs at sa ating mga mamamayan na patuloy ang pag​ suporta at pa​g-comply sa ating​ ​ BIDA Solusyon health reminders."
Through this information drive partnership and other capacity-building initiatives for the LGUs and their respective BHERTs, 7-Eleven, the DOH, and the DILG seek to empower more people with the ability to protect themselves from the virus.