Just in time for the holiday season, singer-songwriter Jose Mari Chan was honored by the Federation of Filipino Chinese Chambers of Commerce & Industry, Inc. (FFCCCII) the "Lifetime Achievement Award" last week.
FFCCCII Lifetime Achievement Award
Led by President Dr. Henry Lim Bon Liong, the awarding ceremony for the Philippine music icon Jose Mari Chan was symbolised through a plaque and a medallion in a Pandesal Forum at Kamuning Bakery Cafe in Quezon City.
The event was also attended by Mr. Cecilio Pedro (FFCCCII Vice-President), Mr. Jeffrey Ng (FFCCCII Public Information Committee Vice-President & Adviser), and Mr. Wilson Lee Flores (FFCCCII Public Information Committee Chairman).
The earlier part of the Pandesal Forum was also graced by China Ambassador Huang Xilian and Cebu City Mayor Mike Rama. Also present were Mr. Peter Laviña (Association for Philippines China Understanding – APCU – Executive Vice-President), Dr. Lily Lim (FFCCCII Public Information Committee vice-chairman), Mr. Wanzen David, and Mr. Calixto Sy. The Barangay Kamuning Senior Citizens Choir also rendered performances for JMC.
To the delight of the crowd, Mr. Jose Mari Chan serenaded them with some lines from some of his iconic songs.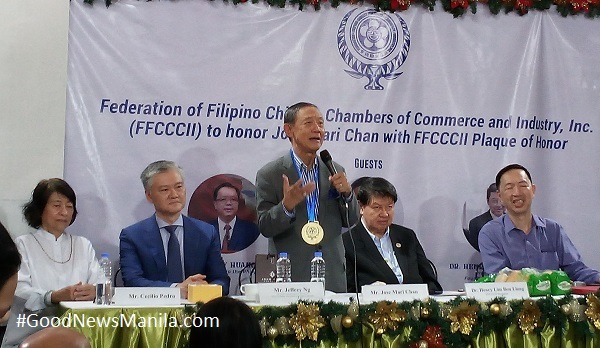 Respectfully declining to be referred to as the "Father of Filipino Christmas music", Jose Mari Chan preferred "Chan-ta Claus" in jest.
National Artist Nomination
Furthermore, Dr. Henry Lim Bon Liong announced that the organization has officially written a letter to the National Commission for Culture and the Arts (NCCA) endorsing and nominating Mr. Jose Mari Chan as National Artist for his rich contribution to Philippine arts and culture.
Jose Mari Chan expressed his gratitude to the FFCCCII for the award and credited his success in life to God, his wife, and his late father Antonio Chan.
Discover more lifestyle and good vibes articles, Subscribing to our blog through email and like the GNM FB Page. Follow our Twitter and Instagram accounts too!